Sentinel Storage - Red Deer Northlands
New! Contact-Free Storage Rentals.
4904 79 St, Red Deer AB T4P 2V2

24 hour security

Moving supplies

video surveillance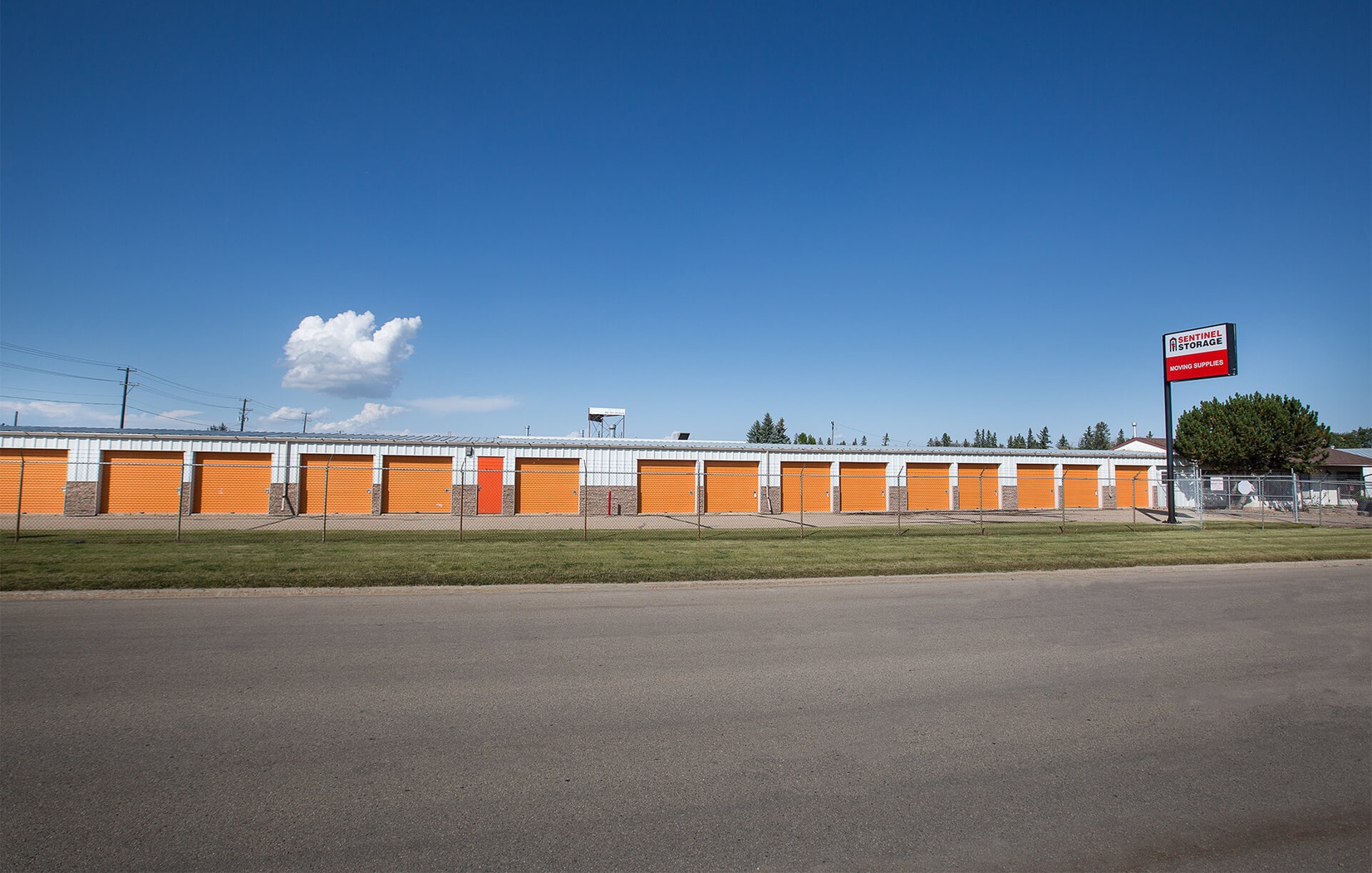 Contact-Free Storage - Rent Online or Over the Telephone!
Best Rate (Based upon availability)
$16 per week
Best Rate (Based upon availability)
$29 per week
* Minimum four week rental. Offers are valid for new clients only, not applicable to unit transfers, may not be combined and are based on availability. Prices may be different due to rounding. The offer does not apply to mailboxes or portable storage containers and cannot be combined with affinity programs or event promotions.
Reservation Centre
| | |
| --- | --- |
| Day | Hours |
| Monday | 8am to 10pm ET |
| Tuesday | 8am to 10pm ET |
| Wednesday | 8am to 10pm ET |
| Thursday | 8am to 10pm ET |
| Friday | 8am to 10pm ET |
| Saturday | 9am to 7pm ET |
| Sunday | 9am to 6pm ET |
Store Hours
| | |
| --- | --- |
| Day | Hours |
| Monday | Closed |
| Tuesday | 9am to 5pm |
| Wednesday | 9am to 5pm |
| Thursday | 9am to 5pm |
| Friday | 9am to 5pm |
| Saturday | 9am to 5pm |
| Sunday | Closed |
* Hours are local time unless stated otherwise.
Gate Hours
| | |
| --- | --- |
| Day | Hours |
| Daily | 6am to 11pm |
Client Testimonials
"Great Experience overall! Getting a storage locker was a cinch. Pricing and contract terms are very flexible. Staff are very knowledgeable and helpful. I liked how they disclosed everything of importance on the contract which is far too often overlooked. 24 hour access, clean facilities, friendly staff....couldn't ask for anything more."
- Al Ferrer
"I was moving to Burlington, ON and needed a climate controlled Self Storage. I rented Storage at the Fairview St. location. The customer service was great. The storage units were clean and bright. I also needed some boxes and was offered a 10% discount because I actually spent so much money on other packing supplies. I highly recommend Access Storage if you are looking to rent a self storage unit."
- Angel Conway
"The service is phenomenal. Ian is a great guy, very willing to help, very knowledgeable, very easy to be around. Moving stuff in and out was simple with the carts and large elevators. Storage space was plentiful. The place looked nice, was quiet, and the lobby was incredibly organized and welcoming. Would recommend this facility to anyone."
- Eric Salkauskas
"Great staff, great facility! Easy to access and load stuff in and out. Great price for temperature controlled and security alarmed units. I highly recommend it."
- Tom Perlinski
"Amazing staff and great location make this Access Storage the perfect place. We were so impressed with the friendly staff, the time they took to talk with us showed how much they cared. The new staff member, Meagan (Hope I spelled it right) was truly the happiest staff member we've ever talked to in storage! She was so smart on the company and the property. We had to remind her that we weren't secret shoppers! LOL"
- Trevor H
Contact-free Rentals Are Easy and Secure!
While our stores and team remain available to support you, we now offer contact-free rentals which means that you are able to move into your rental unit while maintaining a physical distance. In this case, our store team will confirm your government issued ID via email, ensure your paperwork is in order and issue your personal security code over the telephone.
As an added convenience, we are happy to place your required boxes and moving supplies directly into your storage unit, in advance of your move-in.
Whether you're here to get involved with a muddy obstacle course race, try food directly from the farm, visit the Alberta Sports Hall of Fame, play in the water or the beauty of nature, or simply want an amazing doughnut, Red Deer, Alberta is a city with much to offer. For those reasons and more, we at the Sentinel Storage in the Northlands are excited to be providing the incredible city of Red Deer with all its self-storage solutions.
Conveniently located just off Gaetz Ave, between the Boat Mart and the Executive Home Building Centre, the Sentinel Storage on 79 St. is positioned to service the fine communities of the Northlands, Kentwood, Northwood, Glendale, Pines, Johnstone Park, and beyond with all of their self-storage needs, whether for personal or business purposes.
You might require storage because you're moving houses or renovating, looking to store your boat for the winter or your skiing equipment for the summer, a student heading home for the summer or a couple heading away on extended travels, a business requiring additional space for inventory or for organizing the office, but whatever the reason, the Sentinel Storage facility in the Northlands will satisfy every self-storage demand.
From our small, 5x10 units up to our large, 10x20 ones, we have the sizes to fit your project. With exterior, drive-up lockers, interior, and oversized parking space rentals, our north Red Deer facility has every option to meet with any budget.
All the modern self-storage features are available at the Sentinel Storage in Red Deer:
Great everyday service
Online accounting/payments
Clean and professionally maintained
Drive Up Units
Interior Units
Short- or long-term storage
Outdoor Parking
Oversized Parking
Easy check in and check out
Locally staffed
Take a look on our online shop for every moving and storage supply your project could require: boxes, packing tape, wrapping paper, bubble wrap, mattress covers, and more. If it's something that will make your move into storage easier, then we'll have it.
Be assured that our state-of-the-art security system keeps all your storage belongings completely secure:
24-hour security
Gated Property
Individual Unit Alarms
Well-lit
Video surveillance
We've tried to think of every self-storage need imaginable. Check your accounting and make payments online: why leave the house if you don't need to? Use our courtesy move-in van to help get your items to the facility: why run around Red Deer looking for a rental if you don't need to? Use one of our dollies to move your sofa into your unit: why pick it up if you don't need to? If it's related to self-storage, then we've thought of it – and you don't need to.
With our expert staff from the local area, your experience is bound to be an excellent one. We look after your storage items as if they are our own. We're Sentinel Storage, and we're leaders in the Canadian self-storage industry: come see why.
Back to top